Section Title
Want a bite of Christmas? Here you go.
Gingerbread Bars with a Lemon Glaze
Ingredients
1 stick butter, melted
1/2 cup white sugar
1/2 cup brown sugar
1/4 cup molasses
1 tsp vanilla
1 egg
2 tsp baking soda
2 tsp cinnamon
1 tsp ginger
1/4 tsp cloves
1/4 tsp nutmeg
1/2 tsp salt
1 tsp baking soda
2 cups flour
_______________
Juice and zest of one lemon OR 1/4 cup bottled lemon juice
3/4 cup sugar
1/2 stick butter (1/4 cup)
1/2 cup whipping cream
1 1/3 cup powdered sugar
Instructions
Gingerbread Bars

In mixer, cream butter and sugars together until fluffy.
Add molasses, vanilla and egg and blend well.
Sift dry ingredients together and add. Mix well.
Press into well-greased 10 x 15 rimmed jellyroll pan. Dough will be stiff and sticky. If needed, wet hands to press dough down evenly.
Bake @ 325 for 16-18 minutes, or until slightly underdone. Do not overbake.
Cool slightly, then cut into squares or diamond shapes.
Top with lemon glaze.
____________

Lemon Gaze

In saucepan, add lemon juice an zest, sugar and butter. Cook until butter is melted.
Add whipping cream and heat until mixture comes to a boil.
Boil for three minutes, stirring constantly.
Add powdered sugar to the mixture and whisk to incorporate.
Pour over slightly cooled bars.
http://twigandfeather.com/2014/12/gingerbread-bars-with-a-lemon-glaze/
Subscribe & Get The New Articles Straight Into Your Inbox!
[wysija_form id="1"]
Don't Worry, We Don't Spam.
Section Title
"I have put wisdom in the hearts of all the gifted artisans, that they may make all that I have commanded you" (Exodus 31:6).
To read today's portion of scripture, follow this link to Biblegateway.com[...] read more
Section Title
About a year and a half ago, a friend from church taught a group of us how to make a copycat Olive Garden Zuppa Toscana. I loved Lindsey's version and found it to be a little lighter and probably a whole lot healthier than Olive Garden's[...] read more
Oh, how I love Costco's rotisserie chicken. I mean it. I never get over how far that little $4.99 chicken will stretch. Here's what I did with it this week:
I should have taken a picture before I started carving away … next time!
First,[...] read more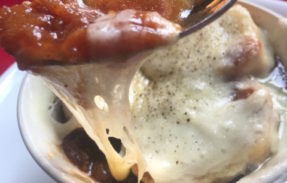 Does the title scare you? I had to be truthful. In the spirit of full disclosure, you need to know that this is a recipe best made on those days when your car has been stolen, or you have a flat tire, or a tree has fallen across the driveway. You know.[...] read more
To read today's portion of scripture, follow this link to Biblegateway.com
or find the following in your Bible:
Genesis 16:1-18:15
Matthew 6:1-24
Psalm 7:1-17
Proverbs 2:1-5
"Do not lay up for yourselves treasures on earth, where moth and rust destroy and where thieves break in and steal; but lay up for yourselves treasures in heaven, where neither moth nor rust destroys and where thieves do not break in and steal. For where your treasure is, there your heart will be also" (Matthew 6:19-21).
When we bought our 13 acres of woods 24 years ago, we were little more[...] read more

Apparently, all Oklahomans fish. It's not optional. Even new, gangly-legged transplants are expected to pole-up and do their part. Shortly after our move from my home state to his, my new step-father decided the seven year-old me needed[...] read more
Part 3 of a series on Hannah Overton and the people in her life.
Hannah Overton (1)  Hannah Overton (2)
The moment Noreen and I settled on the retreat theme, months earlier, my internal debate began. I remember ending that phone call thinking, How[...] read more
A long time ago -- long before I'd begun acquiring my people -- I acquired this fancy little gadget, which my friend ordered from a man in Philadelphia who was handy at carving fancy little gadgets. I think she ordered one for me so I would stop badgering her into baking me batches and batches of my at-the-time most favorite dessert: Pecan Tassies. Lois looked relieved when she shoved her gift across the table toward me. "And here's the recipe," she added. Despite the period at the end of her sentence, I couldn't help but hear the unspoken, "Now, quit bugging me." We're still friends. But I've had to make my own Pecan Tassies ever since.