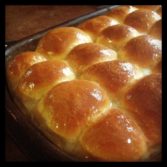 Easy, Fluffy, Greek Yogurt and Honey Dinner Rolls
Update! If you printed out this recipe before, please see changes below. For some reason, I forgot to list eggs!  I also upped the water to 3/4 cup. 
I tried and tried to think up two or three more words to put in that title, but I came up short. 😀
I think you're going to like these rolls. They're big and fluffy, delicious, and absolutely fool-proof. Since Thanksgiving is just 52 days away, it might be a good idea to try these out a time or two in the coming weeks, all in the name of "pinning down the menu."
On another note, my dear friend, Bette, told me (laughingly) a few weeks ago that when she tried to print out one of my recipes, she printed out something like 17 pages of material from the site. That got me thinking about the little recipe plug-in icon sitting at the top of my post page; the one I downloaded about a hundred years ago, back when I thought it would be a good idea to format my recipes. Somehow, I forgot that thought.
Well, here goes. Let me know if you like this recipe format. The nice thing is that it gives you the option to either save this recipe (and any others you like) to one central file, where you can access them any time, or print just the recipe. Of course, you're always free to print 17 pages if you like. 😉
Easy, Fluffy, Greek Yogurt and Honey Dinner Rolls
Ingredients
4 cups of all-purpose flour, divided
3/4 cup warm (not hot) water
2 tsp active yeast (I use Rapid Rise)
2 eggs
1/2 cup Greek Yogurt (plain)
1 1/2 TBSP honey (or 2 TBSP sugar)
1 tsp salt
6 TBSP melted butter, divided
Instructions
In a mixer that has a dough attachment (Bosch, Kitchen Aid, etc.), mix 3/4 cup of the flour with the water and yeast. Leave to stand ten minutes, or until bubbly. (If it doesn't bubble within ten minutes, your yeast may not be viable. Better to get new yeast and start over; otherwise, your rolls won't rise)
In a smaller bowl, mix the eggs, yogurt, honey, salt, water, and 4 TBSP of the melted butter together.
With the dough attachment in place, slowly add the wet ingredients to the flour/yeast mixture and mix for one minute.
Slowly add the remaining 3 1/2 cups flour to the mixing bowl. Knead for 4-5 minutes, stopping in the middle to take a spatula to the sides of the mixer and track down those pesky bits of flour collected there.
When the dough is sufficiently mixed and kneaded (and it's going to be sticky), move to a large greased bowl and cover with Pam-sprayed plastic wrap. The easiest way to spray plastic wrap is to lay it over the bowl, spray the top, and then flip it over so the sprayed part is facing the bread. If that doesn't make sense, leave me a comment and I'll try to say it better. 🙂
Let the dough rise in a warm, draft-free place until doubled in size. This can take as little as 45 minutes and as much as 1 1/2 hours, depending on your yeast and the temperature in your kitchen.
When doubled, oil your hand slightly and punch down the dough. This doesn't mean you give it a whooping; it means that you gently deflate the mound until it reduces back down in size.
Lay the dough out on a clean, floured surface and begin dividing it up. Using a knife, I cut the dough in half, then cut each of those halves in half again. I then roll each of those four pieces into uniform log shapes, and cut those shapes into five pieces. This gives me 20 rolls.
Form each piece into a smooth ball and place on a rimmed baking sheet OR a 9 x 12 baking pan. I've made them both ways. The ones on the baking sheet tend to have more "crust" around the roll, whereas the ones baked in a baking pan have soft sides and a browned top. Both are delicious!
Cover the rolls with Pam-sprayed plastic wrap, leave in a warm, draft-free place, and let rise again until almost doubled.(about 40 minutes). While the rolls are rising, preheat your oven to 375.
When rolls have risen, remove the plastic wrap and bake 18-20 minutes, or until golden.
After removing from oven, brush rolls with the remaining 2 TBSP of melted butter.
Try not to eat them all in one sitting. 😀
http://twigandfeather.com/recipe-view/recipe-post-2-2/
Here's what they look like baked on a rimmed baking sheet: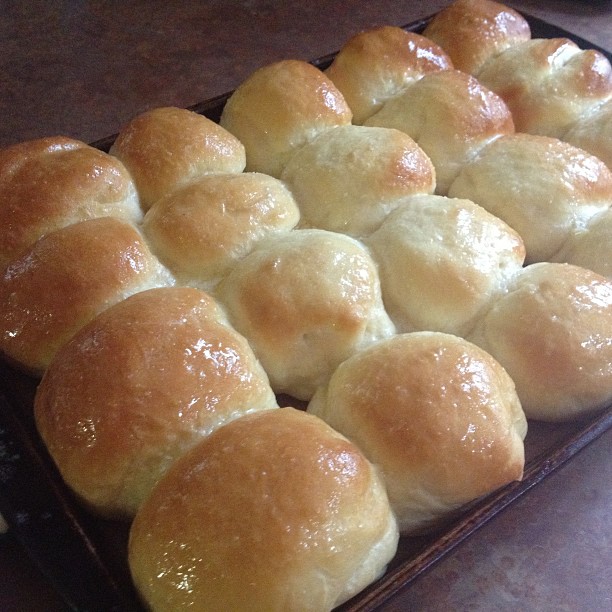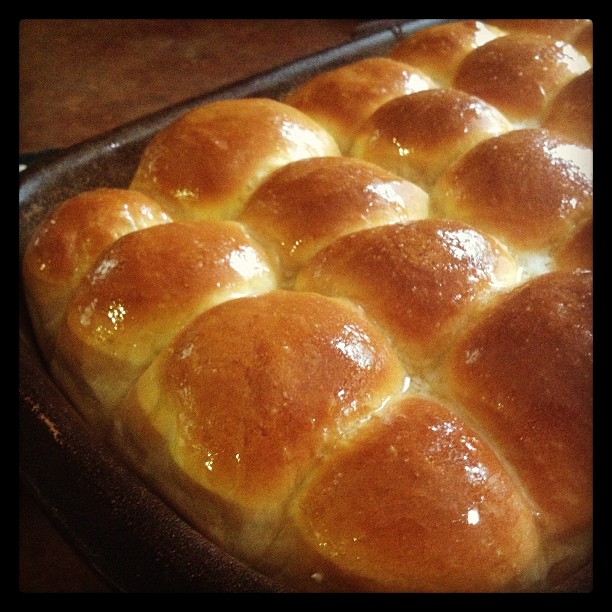 Ingredients
2 small red beets (about 4 oz.)
3 tbsp. olive oil
1 tbsp. whole coriander seeds
2 cups loosely packed cilantro leaves, plus more to garnish
1 cup loosely packed mint leaves
1 tablespoon vegetable oil
1 onion, chopped
2 tablespoons brown sugar
1/2 cup 35% cream
Instructions
1
Spray a small saute pan with cooking spray, and heat over medium high heat. Dice sausage into small disks and cook breakfast sausage along with diced onion.
2
Microwave, uncovered, on high for 1 minute. Remove mug and stir. Cook for an additional 1 minute, or until eggs are completely set! Remove from microwave.
3
Spray a small saut pan with cooking spray, and heat over medium high heat. Dice sausage into small disks and cook breakfast sausage along with diced onion.
4
Heat the oil in a casserole dish and sear the beef cubes over high heat until nicely browned. Season generously.
5
Mix in the flour and brown sugar. Mix well and cook for 1 more minute.
6
Add the onion, garlic, thyme, paprika, and mushrooms, and cook for 5 more minutes.
7
Pour in the mustard, beef broth, and cream. Cover and bake for 3 hours. Adjust the seasoning if needed and serve.
Shannon