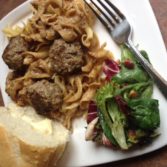 Easy and Delicious Swedish Meatballs
I know I've got a good thing going when Dave tells me four times how good it is, then adds, "These meatballs are five times better than Ikea's, and four times better than Costco's." I had no idea my husband had spent so much time analyzing meatballs, but as long as mine came out on top, I don't really care how he reached those numbers.
His parting suggestion was that we "eat them a lot." So that's the plan. And here's the recipe, my adaptation of Alton Brown's recipe:
Easy and Delicious Swedish Meatballs and Noodles
Ingredients
3 slices white bread, broken in small pieces
1/3 cup milk
3 egg yolks
2 tsp salt
1 tsp pepper
1 tsp Italian seasoning
1/2 tsp grated allspice
1/2 tsp grated nutmeg
1 lb hamburger
1 lb ground pork
1 large onion, diced
8 TBSP butter (1 stick), divided
olive oil
3 cloves garlic
3 TBSP flour
5 cups beef broth
1 TBSP Worcestershire sauce
1/2 cup heavy cream
1/2 cup sour cream
Instructions
Preheat oven to 300.
In a large bowl, combine bread pieces with milk, egg and spices. Let sit five minutes.
Add beef and pork and mix with your hands to combine.
In heavy saucepan, melt 2 TBSP butter with 1? TBSP olive oil. When hot, add diced onion and cook till almost translucent. Add chopped garlic and cook three minutes more.
Deglaze skillet with a splash of beef broth (just enough to loosen all the browned bits) and pour contents of pan into bowl containing beef and pork mixture. Mix well. Shape into 1" balls (a small cookie scoop works nicely for this).
Add another TBSP or two of butter to the skillet, another splash of olive oil, and heat. When hot, add meatballs in two batches and brown on all sides. When the first batch is browned, move meatballs to a rimmed cookie sheet. Brown second batch, add those meatballs to the cookie sheet and place in preheated oven. Bake 30 minutes or until cooked through.
While meatballs finish cooking, make gravy. Wipe out skillet and add 3 TBSP butter and 3 TBSP flour. Stir to combine. If too dry, add a bit more butter. Cook 7-10 minutes, stirring constantly, to cook out the raw flour taste.
Slowly add remaining beef broth, stirring constantly. Add Worcestershire sauce and cream and cook 7-10 minutes to thicken. Near the end of the cooking time, add the sour cream. Season to taste. Turn off heat and add remaining TBSP butter. Stir well.
Serve Swedish meatballs over egg noodles or rice and top with gravy.
http://twigandfeather.com/recipe-view/recipe-post-9-2/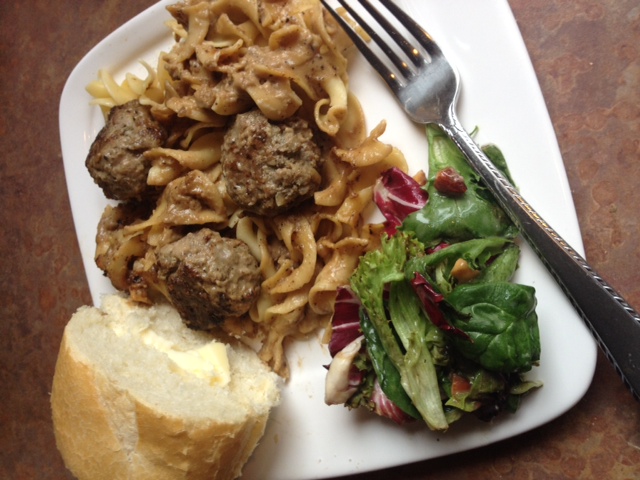 Ingredients
2 small red beets (about 4 oz.)
3 tbsp. olive oil
1 tbsp. whole coriander seeds
2 cups loosely packed cilantro leaves, plus more to garnish
1 cup loosely packed mint leaves
1 tablespoon vegetable oil
1 onion, chopped
2 tablespoons brown sugar
1/2 cup 35% cream
Instructions
1
Spray a small saute pan with cooking spray, and heat over medium high heat. Dice sausage into small disks and cook breakfast sausage along with diced onion.
2
Microwave, uncovered, on high for 1 minute. Remove mug and stir. Cook for an additional 1 minute, or until eggs are completely set! Remove from microwave.
3
Spray a small saut pan with cooking spray, and heat over medium high heat. Dice sausage into small disks and cook breakfast sausage along with diced onion.
4
Heat the oil in a casserole dish and sear the beef cubes over high heat until nicely browned. Season generously.
5
Mix in the flour and brown sugar. Mix well and cook for 1 more minute.
6
Add the onion, garlic, thyme, paprika, and mushrooms, and cook for 5 more minutes.
7
Pour in the mustard, beef broth, and cream. Cover and bake for 3 hours. Adjust the seasoning if needed and serve.
Shannon