I'm off to a wedding today. More to the point, I'm off to help shoot a wedding today. A very last minute, very unexpected opportunity came my way when my friend, Bobby Griffin, (who is the real photographer of this shindig) called last night and asked if I'd fill in for his second photographer. He said my day of assisting/apprenticing would involve crawling on the floor and climbing chairs, and trips to a local park and an underpass for some outdoor shots after the ceremony. Should be lots of fun 🙂
I love weddings. Here's a peek at one from about six years ago …
I'd never been to a wedding with such a gregarious groom.
Terry looked handsome in his tux, and he walked to the stage much the way I've watched dozens of grooms walk to the stage — proper-like, sedate. Serious. But then he broke the mold.
With his back to us, Terry lit a candle on stage. And then he pretended that he had burned himself. At the gasp that flittered across the room, he turned and grinned. Laughter replaced the gasp. Still grinning, Terry walked closer to the crowd to a place he'd been instructed to go. But he couldn't keep quiet. "Hi everybody!" he said.
More laughter. "How ya doin', Ter?" somebody asked.
"Fine … you?" he responded.
It couldn't have been a sharper contrast to the wedding of the night before. But it carried its own charm.
Cheryl's daughter preceded her, singing "The Rose" and sprinkling rose petals as she walked. By the time Cheryl appeared, Nicole's song had ended and someone had begun playing a recording of a song Cheryl and Terry wrote and sang–a song that celebrated the three-fold chord they were about to become, and the Potter who was even now fashioning their lives into a thing of beauty.
Sometime during the song, I became aware of a little imp sitting to the right of Tera. She had snapping dimples and an uplifted hair-do, and brown eyes that showed she was perpetually on the verge of laughter.
"Take your feet off the pew, Ceriwyn," her mother instructed. Ceriwyn complied, never taking those brown eyes off Tera.
"Can we be friends?" she asked.
Tera did a double take and looked back at me with an 11-year old, Isn't that funny? expression. "Sure," she said.
Ceriwyn's mother shushed her after a few minutes, but not before we learned that she lived on Camano Island but had come from Everett, where she'd been visiting her dad … and that she loved her high heels, but would probably never wear them again "except for a special occasion, like now" … and that she was almost as tall as her auntie … and that she might be a comic when she grew up. "Don't you think I should be a comic?"
I did, and told her so. She had so amused me by that time that I'd already begun scribbling notes on the back of the "Order of Events" paper we'd been handed at the door.
Tera leaned close to me and whispered, "I'm tired and I'm hungry. When we get downstairs, I'm going to stuff myself with shrimp."
Ceriwyn, we learned, has amazing ears. "Me too!" she said, leaning around Tera to flash her dimples at me.
About the time Ceriwyn's mother intervened, Cheryl appeared in the doorway, looking excited and beautiful. The ceremony was lovely–full of tender moments and a few giggles, and a message by Dave that caused several couples in front of me to draw closer, and smile at each other. When it came to an end, the tinkling of bells rang through the church as everyone raised the silver bells we'd been given on our arrival. Cheryl and Terry went outside to line up along the street and greet their guests; we began inching ourselves out of our pews.
Ceriwyn barely drew a breath as she offered information and peppered us with questions. When Dave came along the back aisle and leaned in to ask me something, Ceriwyn leaned around me and grinned at him. "You're a good priest."
"Thanks," he said back, laughing.
"Is it fun having a priest for a dad?" she asked Tera. Tera just nodded.
"I got kicked out of Grace Academy," Ceriwyn offered out of the blue. When I asked what she did to get kicked out of the private school, she explained, "I hit a kid with a pillow. I guess that was sort of my last chance. My new school is much, much better for me. I don't know the principal of my new school, but I saw her once at Walmart. I was SO scared."
We went through the receiving line and congratulated Cheryl and Terry. When we moved along to make room for those behind us, Ceriwyn giggled and said, "The bride kinda got jealous 'cause I didn't hug her first … I hugged Terry." Because it flowed in a logical sream in that interesting brain of hers, she followed that announcement up with "My mom is an 'accountist.'" and "I'm a dancer, you know. And I have my tap shoes on."
I looked down at her red, fake gem-encrusted Dorothy shoes.
"Mind if I dance for you?" she asked.
Who would say no?
She tapped out a few steps for me right there on the sidewalk. "You're very good," I informed her.
"Yep. I just picked it up when I saw it on a museum and it was whatchamacallit day … St. Patrick's Day." (I have no idea what all that meant, but I was too busy scribbling notes to verify.)
Dave, Tera and I walked downstairs to the reception. Ceriwyn danced her way down. As luck would have it, Ceriwyn planted herself next to Tera at our table. Tera looked down at the sheet in my hand, noted the rapidly dwindling white space, and said, "Do you need more paper?" At my nod, she scampered back upstairs. When she returned, she plopped two sheets down in front of me–back side up, ready for notes. "I figured you'd need two more."
And I did.
I continued to record Ceriwyn's fascinating observations and comments. "I've never tried mini weenies before, but they look soooo good. Do you think they taste like hot dogs? … I hurt myself taking a picture once … Want to know what I learned to do? I don't think I can show you now–it's the splits."
But it wasn't all Ceriwyn. I took note of the way Cheryl kept looking at Terry, and the way he looked back at her. I took note of Cheryl's "adopted" dad (the father of her best friend) and the way he kept grunting, from the back row, "Cut the cake already!" I watched the ladies at the buffet table pushing the potato salad ("You have GOT to try this, John. I think it's the best I've ever tasted!") and kids with cautious steps carrying too-full cups of punch back to their "kids-only" table.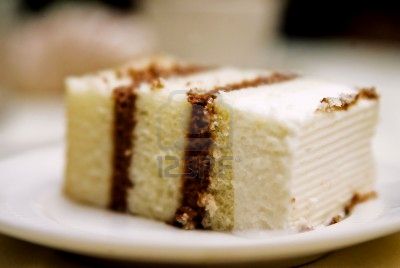 I took note of it all. And when Cheryl's aunt toasted her with "A prayer of mine has been answered — you look happy," I fought tears. I lost that fight when Cheryl's daughter, Nicole, made her own toast, and said, "Today is huge. Maybe not to the world … but it's huge. They're perfect for each other. He makes her laugh, and she makes him serious … sometimes. And now, they're together forever."
"Cut the cake already," the man in back said again. Cheryl took pity on him, pulled her groom back to the cake table, and cut that cake. Just before we slipped out the door, I brought the man a piece.
Oh, how I love weddings.